How can a flexible workspace impact the growth and success of your business?
Creating a workspace that anticipates your needs and inspires exceptional work is a hallmark of Granite Exchange. To simplify the process of choosing the right space for your business to thrive, this is what you can expect from our spaces – from Private to Bespoke, and Coworking, let Granite Exchange support you. 
The nature of work is changing, workspaces and workplaces are continuing to evolve and now, more than ever, there are conversations unfolding about how and why space can impact on productivity, creativity and output. Granite Exchange has been developing flexible workspace solutions from June 2018. Our journey so far has taught us that an office is much more than four walls and a place to work. A thoughtfully designed space that attentively responds to the needs of our Members can have a profound impact on the ultimate success of their business. Choosing the right space and the appropriate services to support your business can be a decisive factor when it comes to determining the longevity and growth of an organisation. To help demystify this process we are sharing some of the insights we have gained in our years of operation. 
Statistics show that the number of coworking spaces globally in 2017 totalled 15,500, serving approximately 1.18 million people. The growth of the industry is a key indicator of the shift in how and where we work. Our relationship with workspace is changing, our expectations of what an office looks like are evolving, and technology, design, community and aesthetics are a more prominent concern for both individuals and organsiations. Choosing the right space for your business to thrive can be an overwhelming decision, but our flexible solutions are a response to these changing workplace dynamics.  
Our Private Offices are fully equipped and come ready for you to make your mark. From technology, to interior design, we take care of everything. This arrangement is ideal for everyone from small teams of two or three people, to large multinationals looking to secure multiple locations.  
What are the benefits of a Private Workspace? 
Flexibility is the hallmark of this arrangement. There is no need to commit to a long-term lease which allows you to test the waters in a new market and remain agile when it comes to the size of your team. We can support you as you determine what works best for your business. 

 

We will do the heavy lifting, literally and figuratively speaking. No moving costs or cumbersome relocation. We make sure that your space is ready for you to begin working right away. 

 

Enjoy access to our professional team and global network. Our expert team that can help with everything from basic reception duties tasks to restaurant recommendations. You will also have access to our events and networking opportunities.

 

Maintenance is our problem, not yours and we're committed to maintaining the exceptional standards of our premises.

 

Eliminate set up costs when you join Granite Exchange.

 

A prime location for networking. We make it a priority to establish communal areas that provide opportunities for informal networking and collaborative work.
Coworking at Granite Exchange offers more than just a desk. Our collaborative workspaces are designed to facilitate connections with like-minded professionals and give you the flexibility to work when, where and how you want to.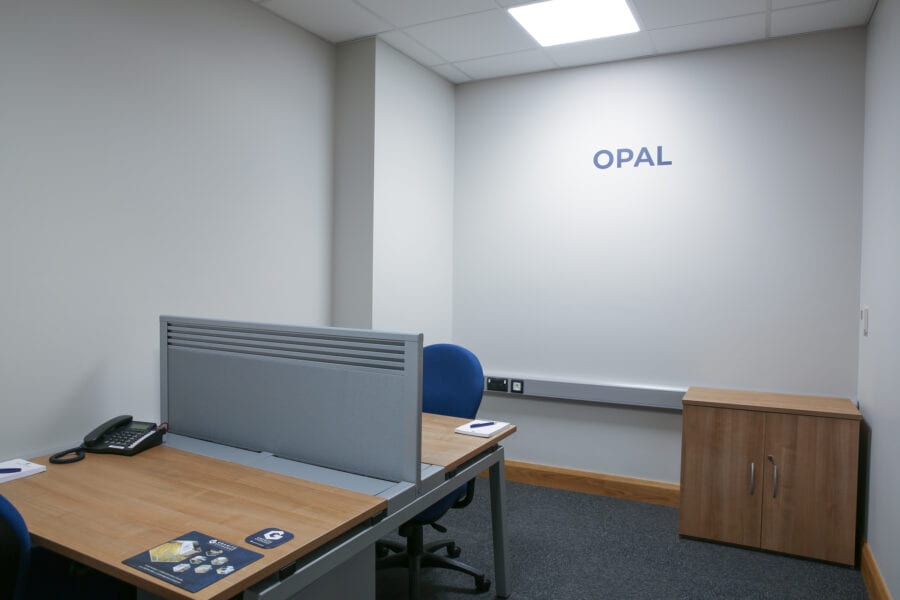 What are the benefits of Coworking? 
Flexibility is one of the greatest advantages of Coworking at Granite Exchange. Our spaces and facilities are available for you to use at a time that works for you. Coworking is also an ideal solution if you travel often or want to use a professional workspace part time.

 

Structure and support are crucial in any workplace, but particularly so for the entrepreneur or freelancer who has decided to cowork. Working alongside likeminded professionals not only creates networking and collaborative opportunities, but it creates a strong sense of purpose in an environment designed as a foundation to your success. 

 

Community is a cornerstone of our Member experience and this is particularly important when Coworking. In-person networking opportunities are made possible by the layout of our collaborative work environments and also by our suite of events and online community initiatives. 

 

Our professional team can help with everything from mail handling and simple administrative tasks, to answering questions about the best place for lunch or client dinners. 

 
We understand that a workspace should be a flexible, supportive and collaborative space and that all our Members will have unique requirements when it comes to creating a productive work environment. We are always looking ahead to anticipate how technology can help us deliver a truly exceptional experience. We're looking forward to new ways of working and new ways of fostering connections.